About Us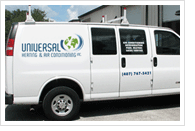 Thank you for taking the time to visit our website.
Universal Heating and Air Conditioning was established in 1996 and is a family owned and operated business. My name is David Jereczek, and I am the president of Universal Heating and Air Conditioning. I hold the State Certified License and am responsible for the day-to-day operations of the business. Julie Jereczek, my partner in our business, manages our office operations. We have three beautiful grown children, two of whom are among our valued employees and are considered significant assets to our success.
Several of our dedicated employees have been with us for a very long time and are considered part of our close knit family. We all realize that it takes team work to make our business operate efficiently and effectively.
Whether it's a pool heat pump manufacturer needing assistance with a warranty issue, a property manager with a last minute check in and no air conditioning in one of their homes, or a grandfather with grandkids coming for the weekend and the pool heater isn't working, when our phone rings, someone needs help. We love our customers and appreciate their trust in us and our ability to help them with all of their HVAC needs.
Our normal coverage areas are Clermont, Davenport, Kissimmee, St. Cloud, Orlando, South Orlando, as well as Seminole and Volusia Counties. We travel to the east coast, from Melbourne to Palm Coast, for pool heating. Our office might not always be the closest, but one of our service trucks may be. We are confident that we are the best to handle your needs and are worth your call.
If you are a current customer, thank you very much for your business. We will work hard to keep your confidence in us. If you have not called on us to help you, please give us a chance to earn your business.
Why Choose Universal Heating and Air Conditioning?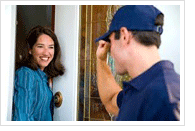 We at Universal Heating and Air Conditioning Inc. have the knowledge, experience, and ability to help you. No one pays attention to detail like we do. We recognize what fails, why it fails, and can come up with solutions to prevent it, slow it down, or stop it from getting worse. Bottom line, we know what works.
Examples of what works:
Finding the very best product for our customers in these Florida conditions. Florida is a peninsula. This is a definite factor when installing equipment or replacing parts outdoors due to rust and corrosion, and we are extremely particular when choosing equipment and parts for our customers.
Training the office staff to ask the right questions before scheduling repairs or replacements so that we can best fulfill your needs.
Educating our valued customers about their equipment and making suggestions to ensure long equipment life.
Educating our work force on all equipment, service, and installation. We strive to remain up-to-date with all design and electrical changes in Pool Heaters and AC equipment.
We take pride in our work. Our newly installed equipment will always be installed properly and comply with all local codes. It will be installed using common sense to ensure future service accessibility. (Please refer to our gallery of installations)
Universal Heating and Air Conditioning is the factory authorized service center for almost all heat pump manufacturers.   As such, we work very closely with those manufacturers. We are proud to say that through the years, due to our experience and knowledge in our industry, we have been asked by four heat pump manufacturers to assist them with design improvements or re-designs of their units. It was an honor to assist in those endeavors to better serve our customers.